When Orangetheory Fitness opens in South Anchorage, Alaska, your personal coaches and fitness family will help you bloom into the powerful individual we know you can be.
You've heard it again and again. Fitness isn't about fad dieting—it's about adopting healthy lifestyle habits. Call it cliché, but don't just let it go in one ear and out the other. In reality, your fitness goals are a journey. Whether you'd like to achieve and maintain a healthy weight or build speed and endurance for your first 5K, it takes time and commitment to get there. Your results will start the first day you step into the Orange Zone, but that will just be the beginning.
At Orangetheory Fitness South Anchorage, we'll lead you through a high-energy workout backed by the science of Excess Post-Exercise Oxygen Consumption (EPOC). Our heart-rate monitored training is designed to maintain a target zone that stimulates metabolism and increases energy. Our members burn an estimated 500 to 1,000 calories in 60 minutes and keep burning calories for up to 36 hours! Our workout is proven to deliver results.
We're excited to open our brand new studio and start burning calories with you. In the meantime, here are some tips and inspiring Orangetheory transformation stories that will help us get ready to go "all out" for our goals.
Get motivated with these Orangetheory Fitness tips:
-
Set a goal.
Evaluate your current fitness level and set a feasible goal. Whether you want to trim your mile run or 1,000-meter rowing time or you want to drop 5 pounds by next month, achieving goals is about clarity, will power, and focus. When you set a goal, write it down somewhere you can see it, and work a little each day to reach that goal.
-
Schedule a regular workout time.
From morning sessions to lunch workouts to evening energy boosters, our studio in South Anchorage, Alaska, will have plenty of convenient times to choose from. Pick your favorite time of day to exercise and make it a habit. Be realistic: If you're not a morning person, don't set yourself up for failure by scheduling a class at 6:00 AM. Your life, your schedule, your Orangetheory workout, your fitness.
-
Think fun!
Get ready to get involved with your Orangetheory South Anchorage family and participate in our events, from the Weight Loss Challenge to OTF Marathon. You'll make wonderful connections and build friendships with people who are all on a similar fitness journey. You'll finally get to see what the Orangetheory Fit Fam is all about!
-
Reach out for support.
When we embark on a journey in our lives or start a new project, it can really help to tell friends and family what we're going through. Not only will these people immediately support our goals, but sharing goals with others helps hold us accountable for these promises we've made.
-
Stick with people who cheer you on.
That'll be easy here at Orangetheory Fitness in South Anchorage, Alaska! Our coaches will be personally invested in your fitness journey and will guide you, motivate you, cheer you on, and push you. They'll know when you totally crush a workout.
-
Reward yourself.
Whether it's a pair of trendy new jeans you've been admiring at the mall or an occasional indulgence from your favorite restaurant, you deserve to treat yourself as you start working for and achieving your goals.
-
Remember why you started.
Life gets tough sometimes, and sometimes we start to lose sight of what motivated us to adopt a healthy lifestyle in the first place. When you start burning, keep a record of your initial goals and gather some "before" pictures. Down the road, this can help you remember your goals, focus on how important your fitness is, and reflect on how far you've come. At Orangetheory Fitness we strive for progress. It's not about the before and after, it's about the before and now.
Check out these Orangetheory transformations and get ready to step up your game:
Like many Orangetheory Fitness success stories, these members didn't blossom overnight.
Jack from Creekside, Canada, has reached his current fitness level at the steady pace of a year and a half. You look great, Jack. Keep burning!
Michael of Boca Raton, Florida, lost 35 pounds by heading to Orangetheory 4 times a week for 6 months—and he is STILL burning. Way to go, Mike!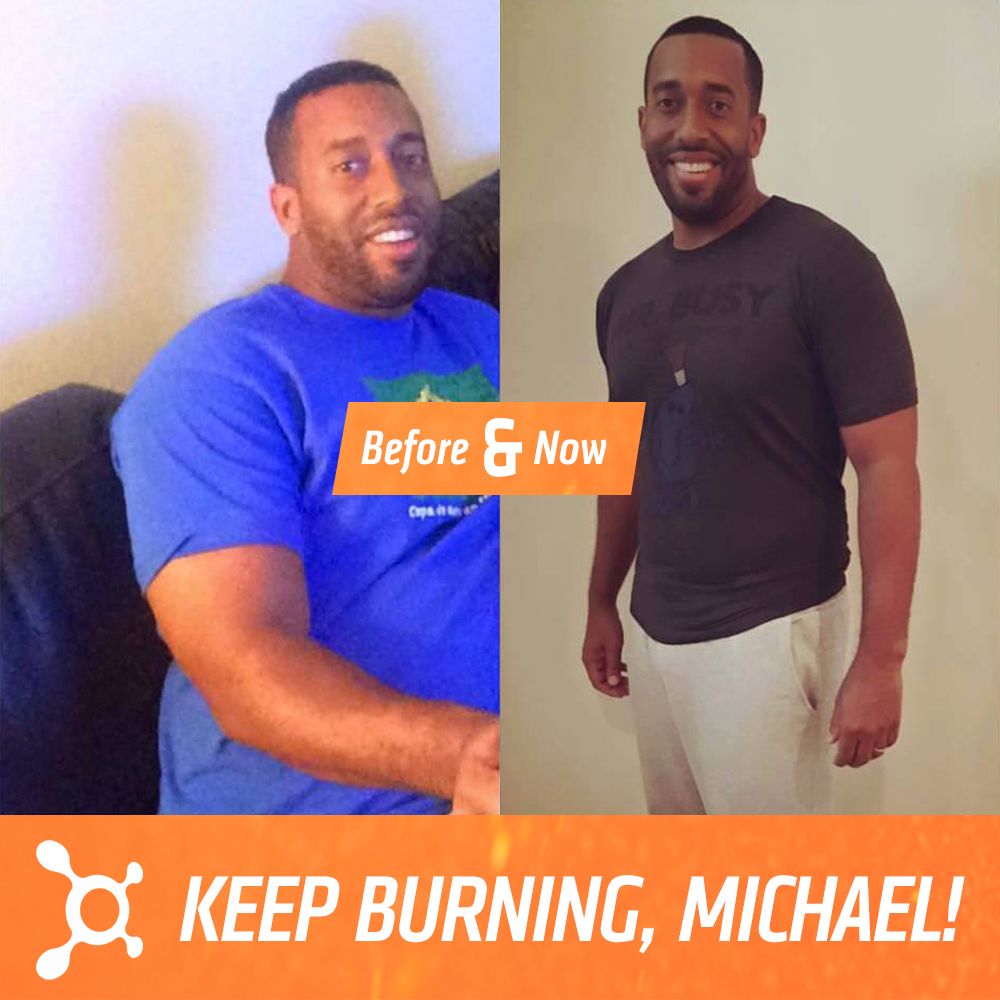 Natalie of La Jolla, California, dropped 33 pounds in just one year. Burning for your pre-baby weight is completely realistic at Orangetheory Fitness!
In one year, Eric and Shannon have lost a combined weight of 50 pounds! We're so glad they're part of the Orangetheory team.
Keep in mind that change will take time. If you ask any of our members how they're feeling today, not one of them will say they regret having embarked on this challenging yet powerful journey for a healthy and fit life.
Ready to start your own journey at Orangetheory Fitness? This April, commit to give us the hours and we'll give you the POWER to change your life. Sign up now:
http://bit.ly/2h39fAn